Tips For Planning Your Perfect Shoot
Whether you are coming to Utah for your first time or even your fifteenth it is always such an exciting adventure to look forward to!
A picturesque mountain getaway is the perfect opportunity to capture some special memories with those you love. I've been so fortunate to help hundreds of couples, families and newlyweds capture thousands of cherished images that have helped them to not only remember their special day for years to come, but also to share with those near and dear.
The Digital Images captured in your session can very easily be used for holiday cards, engagement or pregnancy announcements, wedding invitations, annual calendars, framed prints, giclees and/or metallic art to decorate your favorite space in the home or office.
The key to a fantastic photo session is not only finding a photographer whose work you love, but also who you feel like you really "click" with. This is so essential to making sure that you end up with photographs of everyone both looking and feeling their best.
I sincerely love to get to know my clients during our time together, and I try to make every session casual and fun. I also love having the opportunity to produce a variety of images which cover candid moments, some more intimate details and traditional family or couple's poses as well.
I've put together a basic list of helpful hints that I've found handy through the years to help make the very most of your special day. I hope they're as helpful to you as they have been for me....
Timeliness - Once you have scheduled the perfect time and date to take your photos, it's best to hop on the road a little ahead of schedule if you have a drive to get to your shoot location. Utah traffic can quickly get backed up and because each session is carefully planned to make the most of the beautiful natural light, it's critical to arrive ahead of schedule so that we are ready to start shooting at the scheduled start time of your session. This not only maximises the good light, but ensures that you don't miss out on any of our shoot time by arriving late.
Image Style – It's a really great idea to spend some time browsing through sample albums and internet sites to figure out just what specific image style suits your personal preference and expectations the best. Whether it's casual, or formal images, or a combination of both, letting your photographer know prior to the shoot is very helpful so that I can plan for the session and make concessions for what your may or may not feel comfortable with. The more communication the better!
Shoot Time – Picking the best time of day for your perfect photo session can be tricky business. Mornings, late afternoons and sunsets all offer their own pros and cons and discussing these in detail with your photographer when setting up your appointment will help you choose the day and time that's just perfect for you.
For example, early mornings are amazing for offering very subdued lighting and plenty of shade to make it easy on the eyes. Another added bonus is that you're very likely to have to shoot location to yourself in those cool early morning sessions. Late afternoon/pre-sunset sessions often offer less shadows, and are filled with a bright white light from the horizon as the sun prepares to set. It allows for some really creative images using the various positons of the sun and bright, warm photos. Sunset sessions are just that - timed around the setting of the sun. Most of the session will be held as the sun is nearing the horizon so you'll get plenty of warm filtered light and a few images as the clouds ignite too.
Practice Makes Perfect – It's never too early to start practicing with your kids! Getting them used to looking at a camera lens, picking out key words they can say which naturally create a smile (ie: cheese) and getting them excited about seeing their pictures on the back of a camera is a great way to help ensure they will be equally happy about helping when it comes time to have your professional session.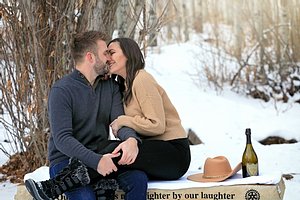 Props? Pros/Cons – Props for adults (such as a bottle of wine & wine glasses, hat, scarf, throw blanket or other simple accent items) can work well to get more artistic images. However, when working with kids, it's good to keep in mind that if they are playing with toys, they will naturally be looking down at the toy instead of up at the camera. Also worth thinking about is what their reaction will be if the toy is removed. Of course every little one is different and some may not care, but if they become upset it will be more difficult to capture a picture of that beautiful happy smile.
Bribes – Please be conservative with bringing food rewards to your shoot as an incentive to encourage children to cooperate for photos. It's hard for little ones to smile and focus when they are eating snacks and you're likely to end up with pictures of the kiddos with their mouths full instead or upset that more snacks aren't available as quick as they would like. A juice box is a good alternative where they can take a quick sip instead.
Sun/Chlorine – Visine may become your new best friend! Of course while on vacation we all want to make the most of each minute we have in this beautiful weather. It's good to keep in mind, if you have a shoot later in the day that being exposed to sun or harsh winds for extended periods throughout the day not only will likely make the kiddos very tired, but it tends to turn everyone's eyes red for photographs. Worst case scenario is picking up some eye drops before your shoot to take the red out which will likely work wonders if a day in the sun can't be avoided.
What to Wear – Most importantly, wear something you feel comfortable in! Since the shoot is going to be outdoors, it will naturally have variables according to the season. Flowing skirts are a great wardrobe choice as long as they are long enough that you're able to move around freely without fear that they may blow where you don't want them to.
In winter sessions you'll likely be walking through snow during part or all of the shoot to capture some great authentic images, so dressing everyone in clothes that can get a little bit of moisture on them without having to worry is a great idea.
Most shoot locations offer a variety of different background options for both sitting and standing poses. I personally love photos where families and couples are able to sit either in the accent rocks, logs or benches, so picking out a nice dress or skirt that is long enough to kneel or sit in with ease will give you a lot more options for really lovely poses.
General tips for colors and/or style to avoid..... This is by far the most common question that I get from clients. I suggest avoiding loud colors and patterns that will clash with either the other members of your group, the wooded or desert background or all of the above. These bold patterns and stripes tend to look out of place in the photos. Wearing garments with large, obvious logos or branding also can date the images quicker than they might be wearing unbranded clothing.
Khaki or jean pants combined with whites, blues, greens, pinks or browns is always a safe color combination and you'll find surprisingly that simply coordinating of colors rather than matching creates a really beautifully unique and artistic image.
Lastly, for the ladies please take care to wear undergarments that are flattering to your dresses, tank-tops or skirts. It makes for a cleaner finished image and avoids any extra editing costs to removed unwanted articles that are showing (ie: brastraps, dark lines, etc.)
Double Shooting – Please don't try to take your own photographs alongside or around the photographer during the photo session. This gets very confusing for the subjects of the photo and in the end, you will end up with professional photographs showing some subjects looking into the lens of one professional camera while others are looking elsewhere.
Please leave all cameras and camera phones tucked away while the session is in progress. This will ensure that the resulting images I capture are the very best they can be, and also that we get the very most out of the time you reserved, without waiting for others to finish taking photos, or to finish browsing the internet. As photographers we're there to make sure we capture such a special time for you, so just sit back and enjoy the session. :)